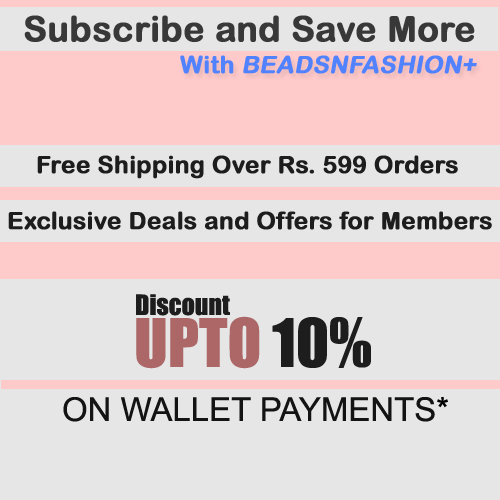 Get upto 10% OFF [ payment thru BeadsnFashion Wallet on all your product purchases on throughout the year. There is no minimum order limit.
Get free shipping within India for orders above Rs. 599/- (against free shipping above Rs. 999/- for non-members) for all your orders on Beadsnfashion.com
Priority Dispatch
Special offers only for Beadsnfashion+ members
Reduced Shipping prices of Rs 50 / instead of Rs 60 [ Regular customers]
All of this comes with the Beadsnfashion Guarantee that you are already familiar with:
Quality products since last 20 years
100% new and unused products
Latest products range
What you buy is what you get
Super fast shipping and delivery timelines
Hassle Free Returns
More than 1 Lac orders Dispatch
More then 50K customers.
All backed by exemplary customer service be it email, phone or WhatsApp which has helped us get customers in over 25 countries across the world.
Get BeadsnFashion Plus advantage.
Note:

Subscriptions cannot be cancelled in the middle of the subscription period.
While purchasing Beadsnfashion+, you would need to pay online.
You must be logged in at the time of placing the order to avail the benefits of the membership.
Currently only available within India.
You can Purchase The Beadsnfashion+ Subscription By Clicking : PURCHASE NOW
You can Purchase Wallet Payment Points By Clicking : PURCHASE NOW
Beadsnfashion is India's largest online shop to buy Jewellery Supplies. We have been in the Jewellery business for over 2 Decades, providing manufacturing and Exporting services in more than 20 countries.
===================================================
Wallet Recharge Discount Wallet Value
===================================================
upto ₹2,000 -3% [ Wallet Value ₹2,060]
===================================================